THE INBOUND METHODOLOGY
The best way to turn strangers into customers and promoters of your business.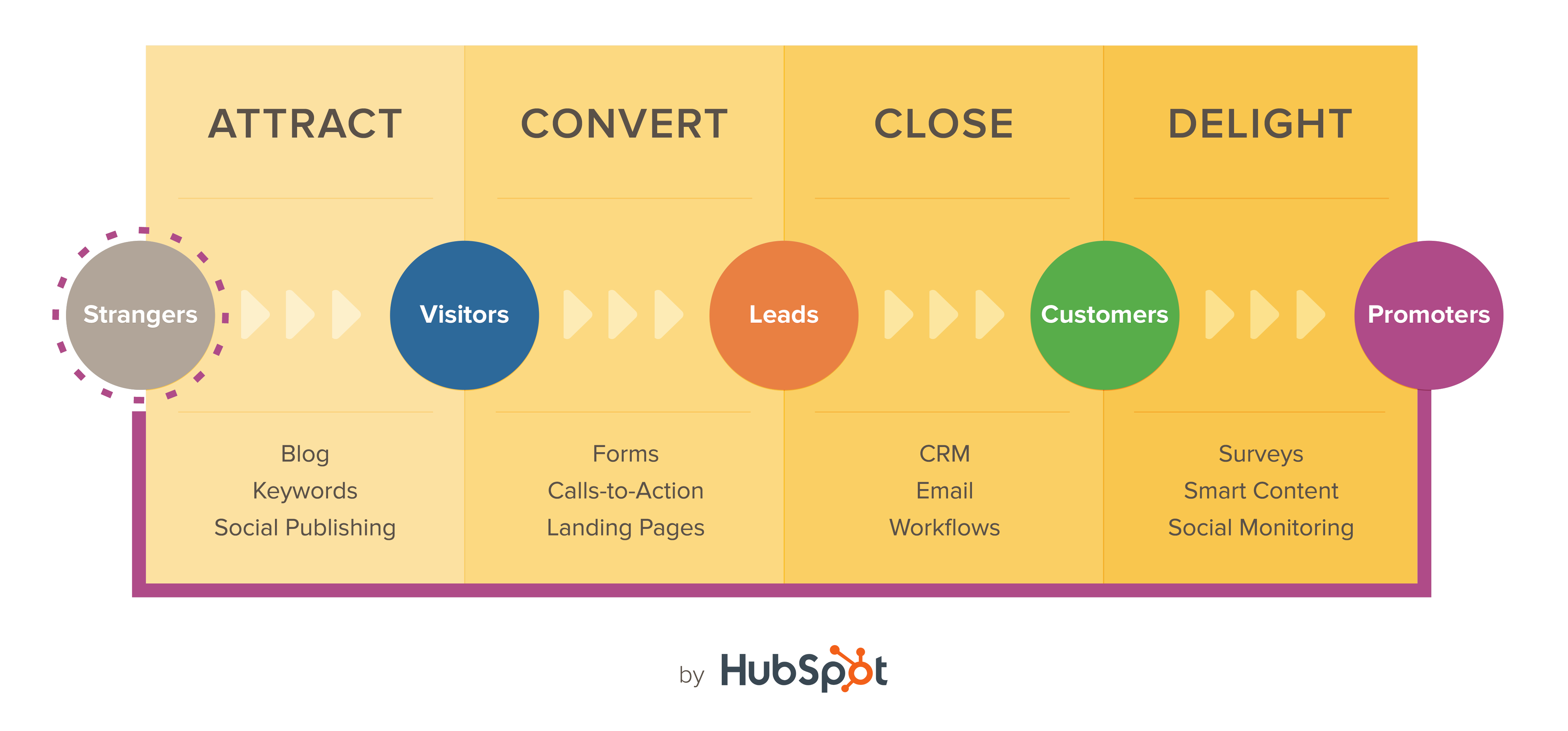 The proven methodology for the digital age
Since 2006, inbound marketing has been the most effective marketing method for doing business online. Instead of the old outbound marketing methods of buying ads, buying email lists, and praying for leads, inbound marketing focuses on creating quality content that pulls people toward your company and product, where they naturally want to be. By aligning the content you publish with your customer's interests, you naturally attract inbound traffic that you can then convert, close, and delight over time.
How to interpret the graphic
Along the top are the four actions (Attract, Convert, Close, Delight) inbound companies must take in order to obtain visitors, leads, customers, and promoters. Along the bottom are the tools companies use to accomplish these actions. (Note the tools are listed under the action where they first come into play, but that's not the only place they're applicable! Several tools, like email, can be essential in several stages of the methodology.)
What is Inbound?
Sharing is caring and inbound is about creating and sharing content with the world. By creating content specifically designed to appeal to your dream customers, inbound attracts qualified prospects to your business and keeps them coming back for more.
Major themes:
Content Creation + Distribution- Create targeted content that answers prospects' and customers' basic questions and needs, then share that content far and wide.
Lifecycle Marketing- Promoters don't just materialize out of thin air: they start off as strangers, visitors, contacts, and customers. Specific marketing actions and tools help to transform those strangers into promoters.
Personalization- Tailor your content to the wants and needs of the people who are viewing it. As you learn more about your leads over time, you can better personalize your messages to their specific needs.
Multi-channel- Inbound marketing is multi-channel by nature because it approaches people where they are, in the channel where they want to interact with you.
Integration- Content creation, publishing and analytics tools all work together like a well-oiled machine - allowing you to focus on publishing the right content in the right place at the right time.
Make marketing people love.
By publishing the right content in the right place at the right time, your marketing becomes relevant and helpful to your customers, not interruptive. Now that's marketing people can love.
The Four Marketing Actions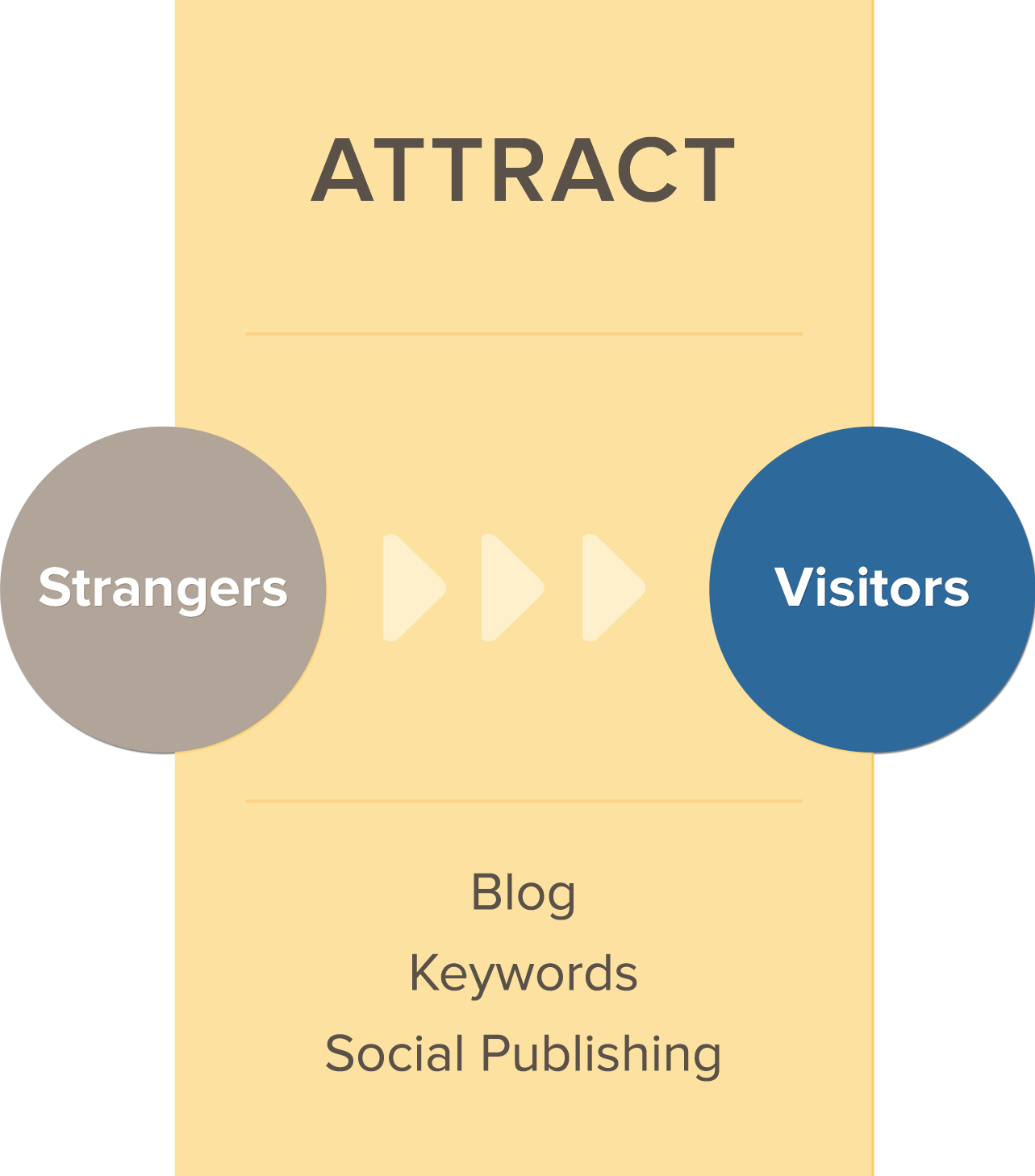 Attract
We don't want just any traffic to our site, we want the right traffic. We want the people who are most likely to become leads, and, ultimately, happy customers. Who are the "right" people? Our ideal customers, also known as our buyer personas. Buyer personas are holistic ideals of what your customers are really like, inside and out. Personas encompass the goals, challenges, pain points, common objections to products and services, as well as personal and demographic information shared among all members of that particular customer type. Your personas are the people around whom your whole business is built.
Some of the most important tools to attract the right users to your site are:
Convert
Once you've attracted website visitors, the next step is to convert those visitors into leads by gathering their contact information. At the very least, you'll need their email addresses. Contact information is the most valuable currency there is to the online marketer. So in order for your visitors to offer up that currency willingly, you need to offer them something in return! That "payment" comes in the form of content, like eBooks, whitepapers, or tip sheets - whatever information would be interesting and valuable to each of your personas.
Some of the most important tools in converting visitors to leads include: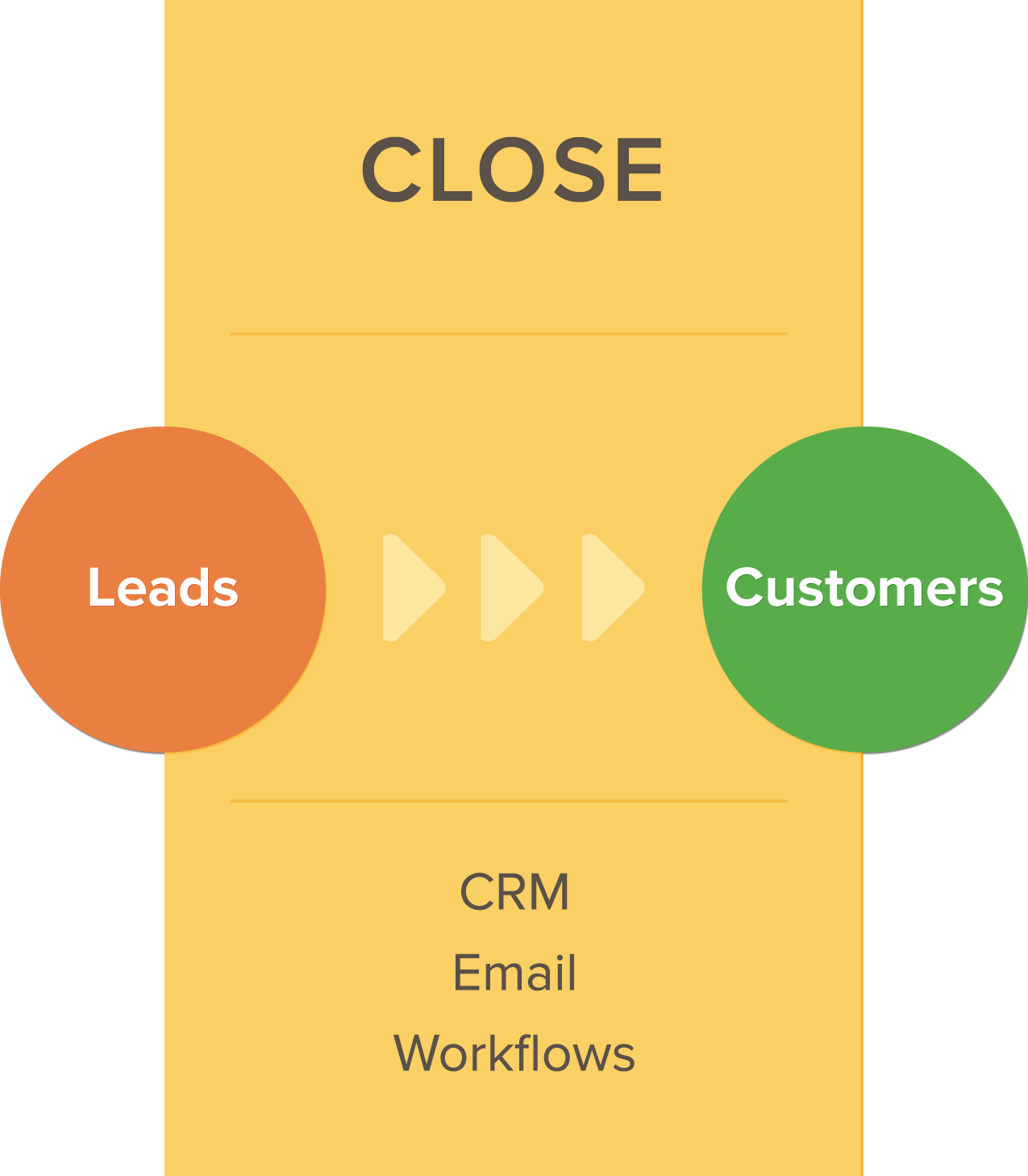 Close
You're on the right track. You've attracted the right visitors and converted the right leads, but now you need to transform those leads into customers. How can you most effectively accomplish this feat? Certain marketing tools can be used at this stage to make sure you're closing the right leads at the right times.
Closing tools include: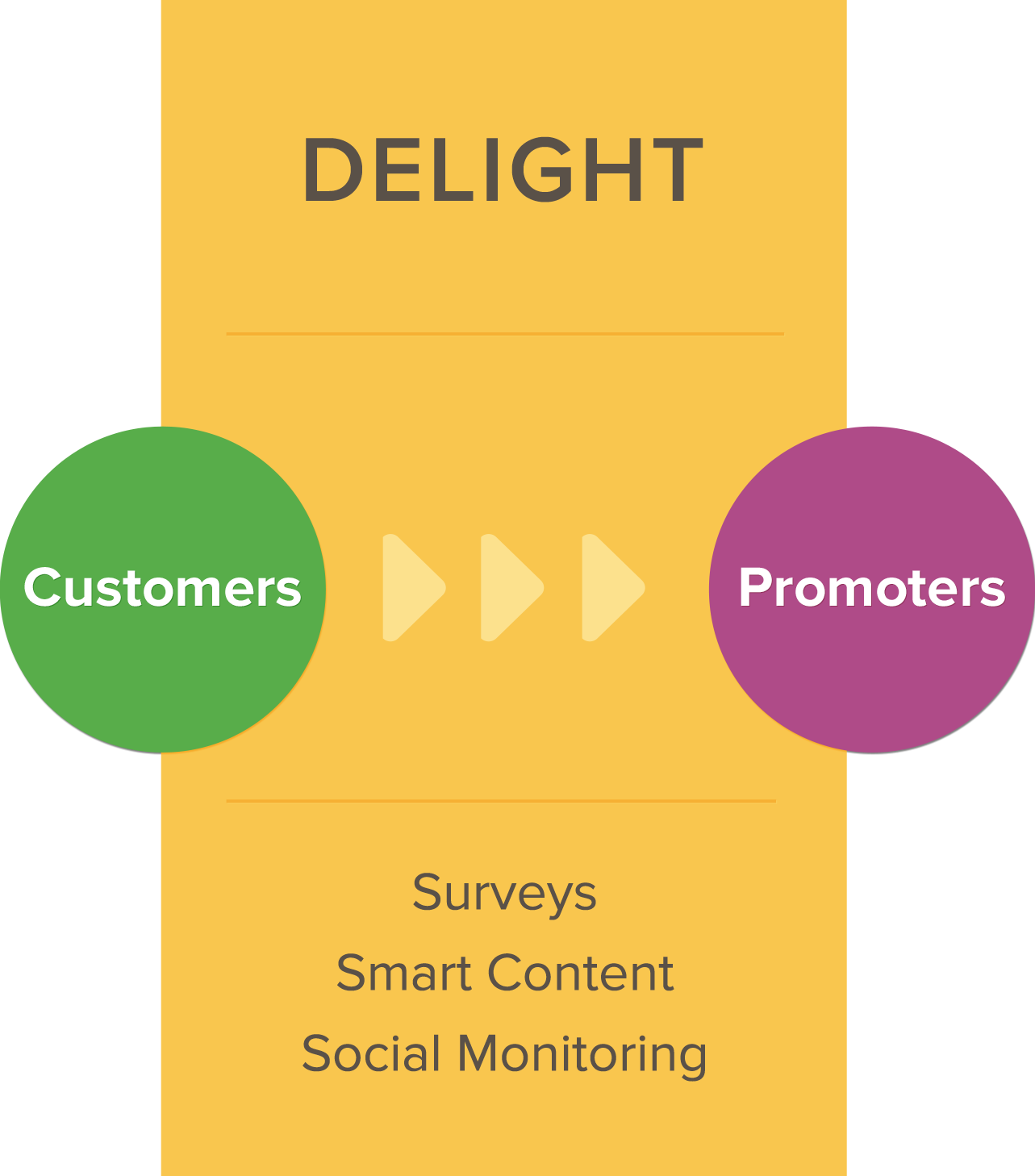 Delight
The Inbound way is all about providing remarkable content to our users, whether they be visitors, leads, or existing customers. Just because someone has already written you a check doesn't mean you can forget about them! Inbound companies continue to engage with, delight, and (hopefully) upsell their current customer base into happy promoters of the organizations and products they love.
Tools used to delight customers include: